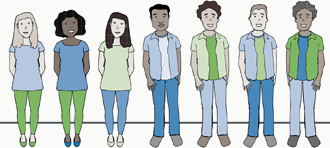 Target Clientele
The French test is designed for students whose mother tongue is not French, and the English test for students whose mother tongue is not English.
Test Features
The TPLS is an online adaptive test designed to measure an individual's level of proficiency in oral or written comprehension, and to identify that level on a standardized scale: the Language Proficiency Levels Scale.
Why a standardized scale?
The Second Language Proficiency Levels Scale details 10 levels of language proficiency development. It describes, for each level, what an individual is capable of understanding, both orally and in writing. The advantages of this scale are numerous:
Standardized information that can be compared with data from other tests and scales developed according to the same principles.
Clearly defined proficiency levels that can help to analyze second-language programs and develop their content.
Results that enable students registered in a program to determine whether they have attained the proficiency level required to pass.
Why an online test?
The logistics of an online test are much simpler than those of a hard-copy test, since the test-related data are centralized and many key tasks are automated. There are also additional advantages to this type of test:
No printing required, only an Internet access.
Flexibility as to the place of administration, i.e., in a classroom, in a lab or even at home, depending on the needs of the institution.
Reduced time to take the test.
Automated validation of answers.
Easy export of results to a spreadsheet for statistical analysis.
Why an adaptive test?
The progression of an adaptive test is non-linear: answers are analyzed as the test is being taken, and subsequent questions are selected accordingly. The test continues until the skill level estimate is stable from one question to another. The final result is translated into a proficiency level on the language scale, which constitutes the basis for skill assessment. Advantages of an adaptive test include:
Prevention of plagiarism, since the test progression (type and order of items, and proposed answer choices) varies with each individual.
Reduction in the number of items presented, and thus in the time required to take the test.
Greater reliability of skill assessment, since the shorter test administration time allows individuals to remain focused and alert.