Subscription and Rates
TPLS Subscription Process
A person designated by the requesting institution must complete the subscription form and email it to tpls at ccdmd dot qc dot ca.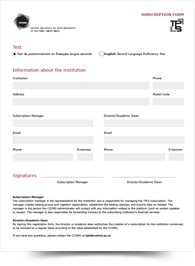 Make sure to fill out all the fields before submitting the form.
Anyone wishing to use the test for commercial purposes must enter into a specific agreement with the Collegial Centre for Educational Materials Development (CCDMD). If you have any questions about the subscription or the TPLS, please contact the CCDMD by email at tpls at ccdmd dot qc dot ca or by telephone at 514-873-2200.
Download the subscription form
Pay-Per-Use
Test administrations are invoiced to subscribing institutions on a regular basis.
Fee Schedule
CCDMD-subscribing colleges
9 $ per administration
Non-subscribing colleges
12 $ per administration
Non-network users
Contact the CCDMD at:

tpls at ccdmd dot qc dot ca
Subscribe to the CCDMD
Institutions in the college network may subscribe to the CCDMD and benefit from privileges, such as obtaining preferential rates and automatically receiving online products developed by the CCDMD. To check whether you subscribe to the CCDMD, contact your college administration.