Test Management
Management Module
The Second Language Proficiency Test (TPLS) management module allows the manager at the subscribing institution to create groups and register individuals for the TPLS. It also provides several features:
| | |
| --- | --- |
| manage groups efficiently | |
| export profile data and results for individuals taking the test | |
| select format for exporting results to a spreadsheet for statistical analysis | |
| view invoicing history | |
| print one or more invoices | |
Time of Administration
The administration schedule can be customized by the manager according to the needs of the subscribing institution.
Place of Administration
The TPLS can be taken online in a classroom, in a lab, or at home, based on the preference of the subscribing institution.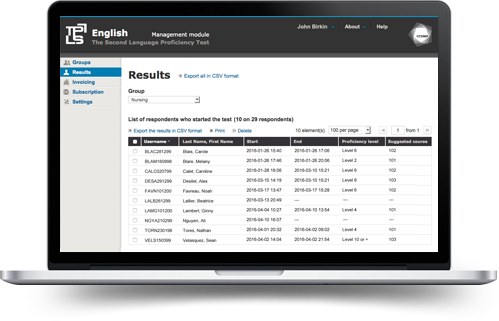 Results
For each individual taking the test, the manager at the institution has access to:
overall results,
detailed results per question,
response time,
date of TPLS administration,
certain profile data (username, group, first and last names, gender, language spoken at home and self-assessment of language skill).
The manager can also customize certain test settings according to the needs of the institution, including:
change messages on the TPLS home page or end-of-test page,
associate language scale levels with course numbers,
display or hide skill level for individuals taking the test, at the end of the test (three results in total: oral comprehension, written comprehension, and overall result).